Chun Cheon and Jade Garden
#
Here's are some of the beautiful and amazing non-tourist spots in Korea, that you could visit.
1. Rail Bike / Pedal Bike, Chun Cheon
Also known as
Jeongseon Auraji Rail Bike
, it costs 22000 won for a 2 person vehicle and 32000 for a 4 person vehicle.
Two years ago, the aging train tracks of Gyeongchun Railway Line were retired, but they have since been re-opened as a rail bike tourist attraction.The pedal bikes travel on old railway tracks, where visitors can leisurely enjoy peaceful rural areas filled with beautiful scenic views of waterways and mountains. credit: Airang News
Tourist are able to peddle bike and at the same time enjoy the refreshing air and picturesque view. The Han River is right next to the railway track and the rocky cliff on the left of the railway track.
image credit: Yonhap News
Featured on
Running Man episode 144
, with Cha In Pyo, Ricky Kim & Seo Jang Hoon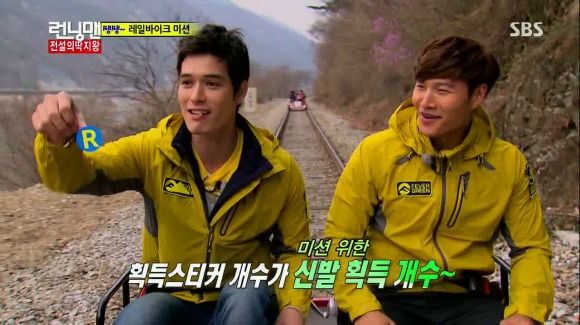 Address: Gangwon-do Jeongseon-gun Buk-myeon Gujeol 1-ri 290-4
(강원 정선군 여량면 구절리 290-4)
2. Dak Gal Bi (닭갈비), Chun Cheon
Dak Gal Bi is a famous dish in Korea, which is made out of grilled chicken, vegetable and topped with Go Chu Jang sauce. All the ingredients are then stir fried to perfection. Dak Gal Bi was originally from Chun Cheon. So it's a must-eat-food when you are in Chun Cheon.
image credit: Weibo
3. Jade Garden, 제이드가든, Chun Cheon
This beautiful relaxing garden is located also located at Chun Cheon. This arboretum has the concept of "small Europe in a forest". The entrance fees is 8000 won. The best season to enjoy this refreshing arboretum? I would say spring, when the flowers are blooming beautifully. This garden had been filming location for several movies and drama.
View more pictures of Jade Garden by
MC Han
.
Address : San 111 Seocheon-ri, Namsan-myeon Chuncheon-si, Gangwon-do, South Korea
Phone: 033-260-8300
4.Konjiam Resort Arboretum, 곤지암CC리조트, Gyeonggi-do
The arboretum is home to about 20 themed gardens, a monorail, and a visitors center and is part of the larger Konjiam Resort, a year-round resort complete with a ski resort, condominiums, a spa, and an outdoor swimming pool. credit : visitkorea.or.kr
The entrance fees is fairly reasonable and you're able to enjoy the fresh and relaxing air of the arboretum. If you're there during the winter, Konjiam Resort has a skiing resort as well.
Address:
San 23-1, Doung-ri,

Docheok-myeon,
Gwangju-si,
Gyeonggi-do
Official Page: Konjiam Resort
Labels: Kim Jong Kook, Running Man, Song Ji Hyo, South Korea, 런닝맨