No doubt, South Korea is a four seasons country. Just a short post for today,
because I'm out of idea on what to post.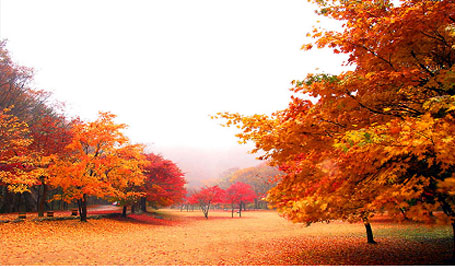 image credit: http://blog.daum.net/js2m4u/11335070
4 seasons
사계절 (sagyejeol)
Season
계절(gyejeol)
Spring
봄(bom)
Summer
여름(yeoreum)
Autumn/Fall
가을(ga-eul)
Winter
겨울(gyeoul)
Typhoon
태풍(taepung)
Example:
I like spring more than fall.
나는 가을보다 봄이 더 좋다 (naneun ga-eulboda bom-i deo johda)
Which is your favorite season of the year?
일년 중 어떤 계절이 제일 좋으세요?
(ilnyeon jung eotteon gyejeol-i jeil joh-euseyo?)
Typhoon hits South Korea every summer.
태풍은 매년 여름 한국을 강타한다
(taepung-eun maenyeon yeoleum hangug-eul gangtahanda)
This is how the weather in Seoul looks like right now, during Fall.
Which season would you choose, when you're visiting South Korea?
Tips : You might not want to plan a trip to South Korea during Summer, as the weather is very hot and typhoons usually strikes during Summer.
Labels: Hangul